[vc_row][vc_column][vc_column_text responsive_align="left"]
Liz Shabaker named a 2018 Most Admired Leader by Phoenix Business Journal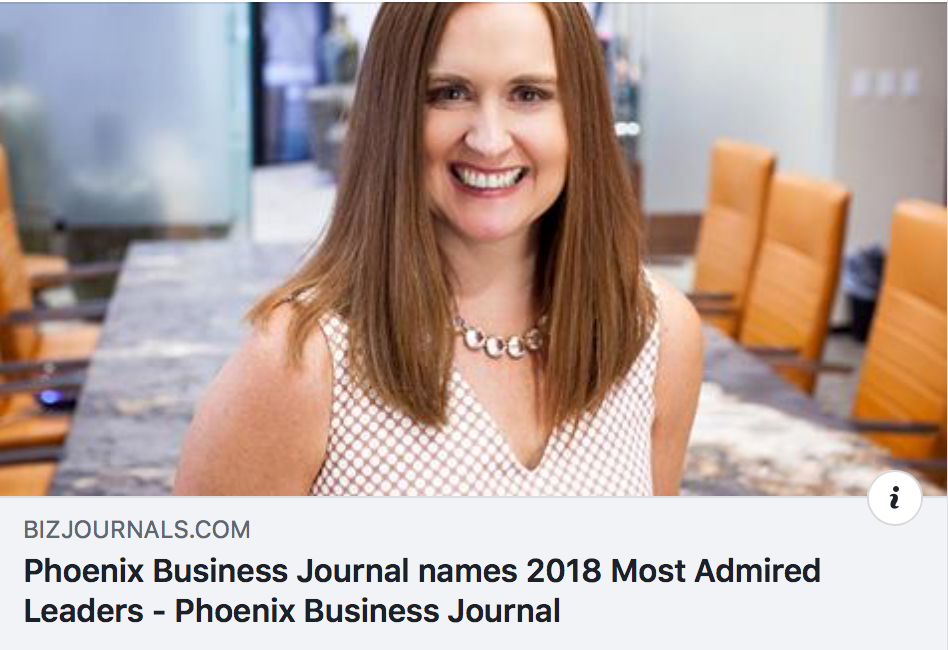 July 23, 2018, Phoenix, AZ – Liz Shabaker, CEO of Versant Capital Management, was recognized in the Phoenix Business Journal's annual list of Most Admired Business leaders, which honors 27 individuals for their work at their companies and in the larger community. These professionals have spent their careers honing their business acumen as well as devoting time to build the community. The awards are nomination-based, and winners were selected by a panel of judges that includes previous honorees.
The honorees are highlighted in the July 27 issue of the Phoenix Business Journal and will be celebrated at a reception on September 20th at the JW Marriott Phoenix Desert Ridge Resort & Spa.
Liz Shabaker's reach goes beyond the financial arena. She serves as immediate past president of the board of directors and vice president of governance for Free Arts for Abused Children of Arizona, a nonprofit organization that helps to heal abused and homeless children through artistic expression. Shabaker is also a member of the Phoenix Art Museum's Planned Giving Committee. Originally from Carmel, California, Shabaker has resided in Arizona since 1999. Click here for a full bio.
END
About Versant Capital Management, Inc.
Versant Capital Management, Inc. provides customized wealth management services for high-net-worth clients, including individuals, families and their related entities, trusts, corporate pension and profit-sharing plans, closely held businesses, not-for-profit organizations, and other tax-exempt entities, with a focus on multi-generation and next-generation education. For more information or to view the firm's disclosures, visit versantcm.com.[/vc_column_text][/vc_column][/vc_row]