Prepared by Brandon Yee and Tom Connelly

Commentary: Developed Markets Essentially Flat
For the month of August, Europe ex UK and Japan posted slightly positive returns of 0.35% and 0.38%, respectively. The Pacific ex Japan region lagged the other markets, returning -1.46%, but still has a strong one year trailing return of 12.67%.

Commentary: Emerging Markets Continue Strong Run
Emerging markets recorded positive returns. The Chinese market had a strong return of 7.37%. Korea was not too far behind while the Brazilian market continued its strong recent performance. India and Mexico lagged the broader emerging markets.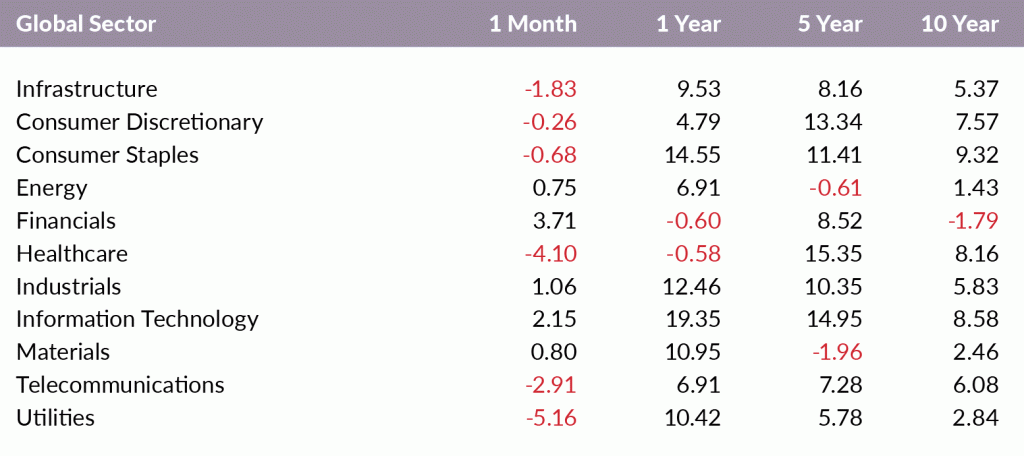 Commentary: Defensive Sectors Lag
Financials, information technology, and industrials posted the strongest global sector returns of 3.71%, 2.15%, and 1.06%, respectively. Utilities recorded the lowest return of -5.16% with healthcare and telecommunications in the red as well. Materials and energy were essentially flat for the month.

Commentary: Value Continues to Outperform
Value continued to outperform growth. The performance difference is especially noticeable in the small cap space. In the past year, the performance difference between small cap value and small cap growth is 10.25%.

Commentary: Foreign Developed Value Records Positive Return
In the international developed markets, value indices outperformed growth indices. Momentum returned -2.79% for the month of August. Smaller emerging market companies continued their strong run.

Commentary: Low Rates Keep Money Market Fund Yields Low
Money market funds continue to have very low yields, performing in line with the 3-month T-Bill Index. The CPI dropped by 0.04% in the month of July.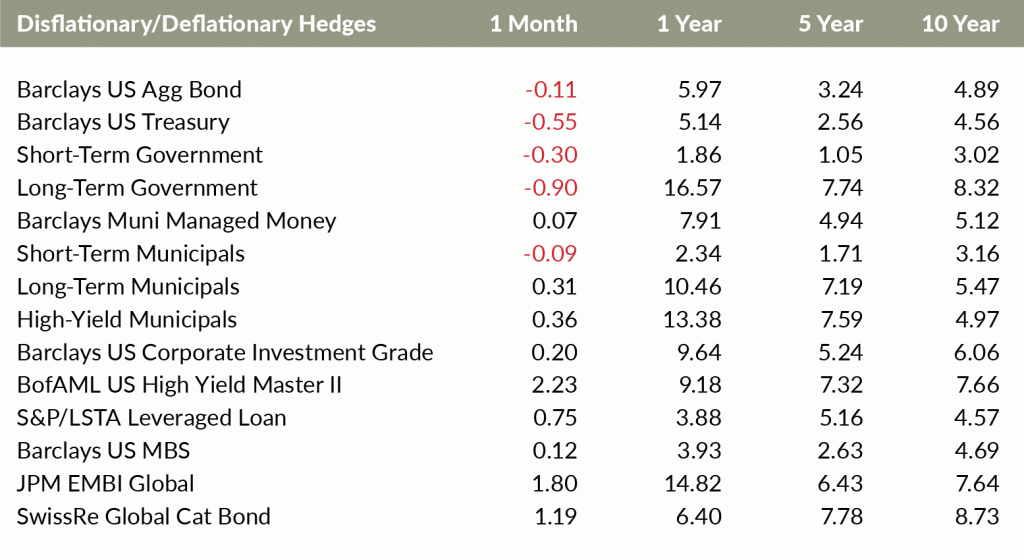 Commentary: High Yield and Emerging Market Bonds Lead the Way
The majority of deflationary hedges posted positive returns for the month except for U.S. government bonds and short-term municipals. High yield bonds and emerging market bonds produced the highest returns of 2.23% and 1.8%, respectively. The SwissRe Global Cat Bond index recorded sizable gains as well, returning 1.19%.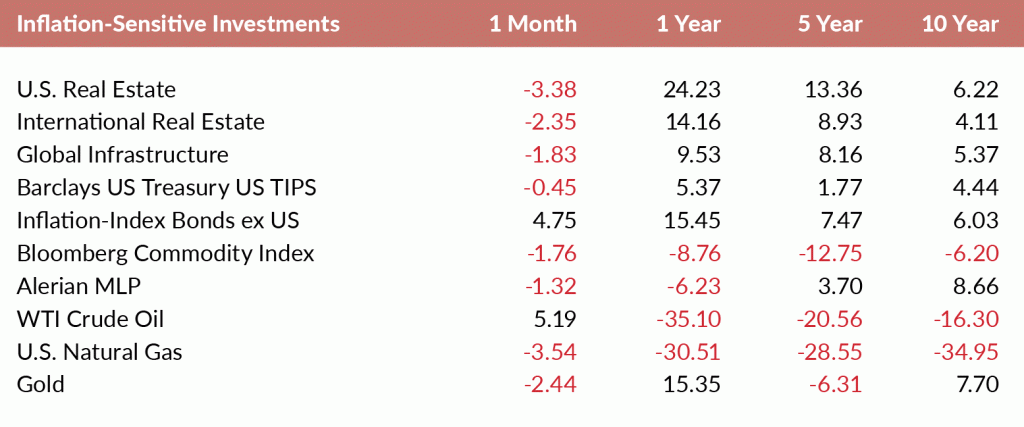 Commentary: Inflationary Hedges Lose Steam
Inflationary hedges recorded mostly negative returns. U.S. real estate took a step back while natural gas continued its decline. Foreign inflation-index bonds and crude oil recorded the highest returns among the inflation-sensitive investments. Gold lost some steam, but is strongly positive over the past year.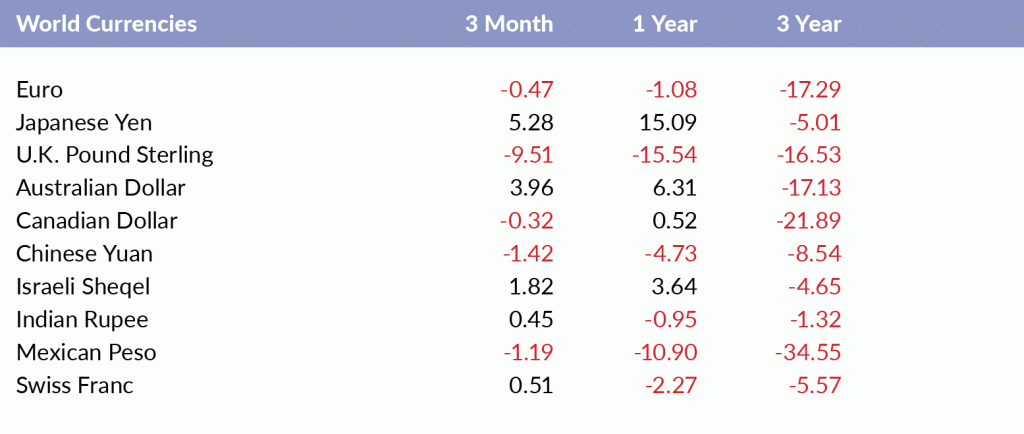 Commentary: The Yen Continues to Strengthen Versus the U.S. Dollar
The Japanese Yen has appreciated the most against the U.S. dollar over the past year with the Australian dollar gaining as well. The Pound had the greatest depreciation versus the USD, with most of the depreciation coming from the last three-month period.