New 2018 Medicare Surcharges
Medicare Part B and D Premium Increases
By Norm Miller, former Senior Wealth Manager at Versant Capital Management (retired)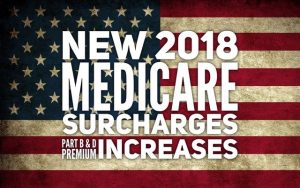 The end of the year, tax news was dominated by the Tax Cuts and Job Acts, which was signed into law on December 22, 2017. Under the radar, however, Medicare made a change to the Income-Related Monthly Adjustment Amount (IRMAA) brackets for Medicare Part B (Physician) and Part D (Prescription Drugs) premiums.
Background
The Medicare Modernization Act of 2003 triggered the inception of IRMAA in 2007. IRMAA also started applying to Part D premiums in 2011. The Medicare Access and Reauthorization Act of 2015 precipitated new tiers and premium surcharges. Essentially, IRMAA applies a premium surcharge to the baseline rate, based on the taxpayer's modified adjusted gross income, or MAGI. (Generally, your modified adjusted gross income [MAGI] is the total of your household's adjusted gross income plus any tax-exempt interest income you may have.)
The 2018 change will increase the surcharge for incomes above $133,500 for an individual ($267,000 for a couple) up to $214,000 and $428,000 respectively. The net effect is that taxpayers within this income range will pay over $950 per year in higher Part B premiums starting in 2018 and just under $250 per year for Part D premiums.
The Social Security Administration (SSA) uses the most recent tax return supplied to them from the Internal Revenue Service. Generally, this is the return from two years ago. For example, when the SSA determines 2018 benefits in late 2017, they will use the 2016 tax return. This is important to know for potential planning strategies.
The base Part B premium covers 25% of the total Part B cost – the reminder is subsidized by general revenues of the Federal government. IRMAA adjusts the premium such that the taxpayer in the top tier will absorb 80% of the cost (Part B full monthly cost is $536). Please refer to the Social Security Publication for more details.
Medicare Part B and D Monthly Premium Surcharges (2017 versus 2018)
(Note:  double MAGI numbers for married filing jointly)
| | | | | |
| --- | --- | --- | --- | --- |
| IRMAA Tier | Individual MAGI (2017) | Individual MAGI (2018) | 2018 Part B Surcharge | 2018 Part D Surcharge |
| Base | < $85,000 | < $85,000 | $134.00 | Plan Premium |
| Tier 1 | Up to $107,000 | Up to $107,000 | + $53.50 | + $13.00 |
| Tier 2 | Up to $160,000 | Up to $133,500 | + $133.90 | + $33.60 |
| Tier 3 | Up to $214,000 | Up to $160,000 | + $214.30 | + $54.20 |
| Tier 4 | > $214,000 | > $160,000 | + $294.60 | + $74.80 |
Tiers 2 and 3 for 2018 are compressed into Tier 2 for 2017, and Tier 4 for 2018 is compressed into Tier 3 for 2017. The Part B premium surcharges did not change from 2017 to 2018, but the compression of tier brackets added more Medicare beneficiaries to higher health care costs.
Planning Considerations
The SSA does provide exceptions to the imposition of IRMAA surcharges for certain life-changing events, such as marriage, divorce, and work stoppage (read, retirement) among others. Versant Capital Management has successfully used the work stoppage exception to reduce/eliminate premium surcharges in the initial year of retirement for clients. This strategy may be fulfilled by filing Form SSA-44. It should be noted that the SSA does not consider substantial changes in income to investment portfolio or selling real estate as an exception. You will need to wait out the one year period of surcharges.
Versant Capital Management can monitor your income so that when it is close to a tier threshold, you may consider the timing of realized gains that could push you into a higher tier. The additional premium surcharge is small (1 to 2% range), but it is still a factor. Taxpayers in the $133,500 to $214,000 income bracket face up to a 60% increase in the premium surcharge for both Part B and Part D starting in 2018.
Please contact your Versant Capital Management wealth counselor if you have questions or need clarification on the Medicare premium surcharge change. Here's to a healthy and prosperous 2018!