[vc_row][vc_column][vc_column_text responsive_align="left"]
Elizabeth Shabaker of Versant Capital Management Honored for Charitable Work with Free Arts for Abused Children of Arizona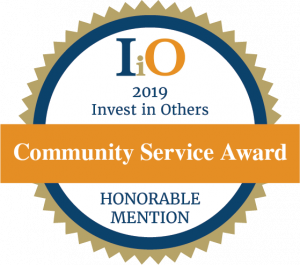 Phoenix, AZ – July 12, 2019 – Elizabeth Shabaker, CEO at Versant Capital Management, Inc. in Phoenix received Honorable Mention in the 13th Annual Invest in Others Awards for her philanthropic contributions to Free Arts for Abused Children of Arizona. As a result, Free Arts will receive a $1,000 donation from Invest in Others in Liz's honor.
The Invest in Others Charitable Foundation established its awards program to recognize the charitable work of financial advisors in communities across the country and around the world.
Financial advisors are nominated for actively giving back to nonprofits to improve their communities and make a difference in the lives of others. Hundreds of inspirational nominations for the Invest in Others Awards were received this year and reviewed by a diverse panel of leaders in the financial services industry. Those earning Honorable Mention were selected based on their leadership, dedication, contribution, inspiration, and impact on a nonprofit and the community it serves.
In the years since Liz joined the Free Arts board of directors, she has chaired the fundraising/development committee, governance committee, Art from the Heart Art Auction held at Saks Fifth Avenue, served as president-elect, and was the keynote speaker at a 2017 major fundraising and engagement luncheon. Due to Liz's leadership acumen, her fellow board members elected her to serve as the president of the board in 2017. Now, as a past president, she is an advisor to the executive director, and she currently holds the office of secretary, which continues to bring her voice to the executive committee.
The 13th Annual Invest in Others Awards Gala, a premier event attended by over 700 financial advisors and financial services executives, is September 26, 2019 in Boston. Awards will be presented in the following categories: Catalyst, Community Service, Global Impact, Volunteer of the Year, and Lifetime Achievement.
Free Arts for Abused Children of Arizona serves children aged 3 to 21 years old residing in homeless and domestic violence shelters, foster care group homes, residential treatment centers, and foster and kinship families, using intentional art to transform children's trauma to resilience.
END
About the Invest in Others Charitable Foundation
The inspiration for the Invest in Others Charitable Foundation, a 501(c)(3) charity, came directly from the financial advisors who invest in others by giving back to their communities with overwhelming generosity and dedication. Since its founding in 2006, Invest in Others has amplified these efforts by providing a platform for advisors to increase awareness, visibility, and funding to their favorite nonprofits. For more information, visit www.investinothers.org
About Versant Capital Management, Inc.
Versant Capital Management, Inc. provides customized wealth management services for high-net-worth clients, including individuals, families and their related entities, trusts, corporate pension and profit-sharing plans, closely held businesses, not-for-profit organizations, and other tax-exempt entities, with a focus on multi-generation and next-generation education. For more information or to view the firm's disclosures, visit versantcm.com.[/vc_column_text][/vc_column][/vc_row]