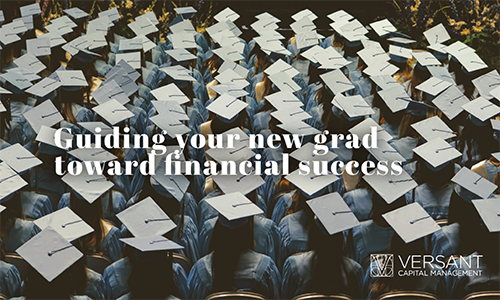 Guiding Your New Grad Toward Financial Success
About four million people will graduate from college in 2023
1
 and begin establishing careers. Graduates' relationship with money can change significantly once they have a job and pay their bills. For families, a new set of worries emerge. Can your kids make it on their own? As a wealth management firm, we are uniquely positioned to help both graduates and their loved ones navigate this moment—and build a financial foundation that will last a lifetime.
Understanding the Gen Z Mindset
Gen Z (born after 1996) is the most racially and ethnically diverse generation in the U.S. and is on track to be the most well-educated.2 They're digital natives with a strong sense of social responsibility3, are highly collaborative and social, value flexibility, and resist hierarchical leadership.4
Gen Z is sometimes skeptical of financial institutions, which may cause them to be less likely to invest. Morning Consult's 2020 survey found that only 32% of Gen Z respondents say they trust Wall Street—the second lowest trust rating after Hollywood (28%).5 According to the World Health Organization, they're also likely to live longer than their parents, with an average of nearly 20 healthy years after age 606. Longer life spans, combined with diminishing Social Security reserves, could strain their financial stability. They'll likely need to depend more on their savings than previous generations, which makes financial planning as urgent as ever.
The nature of work is also changing. In 2021, the number of independent workers—workers who are not employees of a company—jumped 34% to 51.1 million.7 Many of these workers have no retirement plan and may not be saving at all.8 As the 1099 continues to outpace the W-2, future generations will likely need to be even more proactive about their financial future.
Gen Z's uncertainty about the future (especially their financial future) has increased since the pandemic began and continues through volatile times. Are today's young people prepared for the economic realities ahead?
Helping You Start the Conversation
You may feel like you have much work to do to help your young adult become financially independent. Graduation is a timely opportunity to review tips to help your graduate understand the importance of building a solid financial foundation and good savings and investing habits that can last a lifetime.
Consider creating a "resource kit" that provides tips on how to talk about topics such as:
Setting up auto-pay for regular bills
Record keeping (tracking apartment deposits, tax receipts, etc.)
Helpful apps and online tools
Building good credit (creditkarma.com)
Budgeting best practices
Gifts Can Offer a Financial Boost
In a 2022 National Retail Federation survey, more than half of the respondents said they plan to give cash as a graduation gift.9 You may want to think beyond the one-time gift and consider gifts that help establish healthy financial habits. Some ideas include:
Matching savings contributions. Opening a savings account can open the door to a good savings habit. You can make the initial deposit, and by matching a portion of your graduate's contributions, you can incentivize regular contributions throughout the year. (Note: In 2023, you can give up to $17,000 per recipient without incurring the gift tax, $34,000 if you're giving as a couple).10
Fund or match contributions to an IRA. Opening a tax-advantaged Individual Retirement Account (IRA) could be the right move if your graduate is freelancing or ineligible for a 401(k) through their employer. Roth IRAs, funded with after-tax dollars, offer tax-deferred growth and tax-free withdrawals and are a practical option for those with smaller incomes.
Give stocks with youth appeal. Gifting stocks that appeal to young graduates might pique their interest in investing. Think about what appeals to your grad. Entertainment, technology, or socially responsible investments are a few popular options. (You'll want to include your grad in the decision).
Gift appreciated stocks. Gifting appreciated stocks helps build your graduate's assets while reducing your capital gains. This could also be a good time to start a conversation about generational tax planning, something your wealth counselor could help you with.
A graduation is a big event. We encourage you to include your children and grandchildren in planning conversations to help introduce key financial concepts throughout their upbringing. Throughout all the excitement and nerves, Versant Capital Management is there for you and your family no matter where life's journey takes you.
Sources: Charles Schwab
Melanie Hanson, "College Graduation Statistics," Education Data Initiative, June 12, 2022, https://educationdata.org/number-of-college-graduates/.
Kim Parker and Ruth Igielnik, "On the Cusp of Adulthood and Facing an Uncertain Future: What We Know About Gen Z So Far," Pew Research Center, May 14, 2020, https://www.pewresearch.org/social-trends/2020/05/14/on-the-cusp-of-adulthood-and-facing-an-uncertain-future-what-we-know-about-gen-z-so-far-2/.
Annie E. Casey Foundation, "Social Issues That Matter to Generation Z," February 14, 2021, https://www.aecf.org/blog/generation-z-social-issues.
Melissa De Witte, "Gen Z are not 'coddled.' They are highly collaborative, self-reliant and pragmatic, according to new Stanford-affiliated research," January 3, 2022, https://news.stanford.edu/2022/01/03/know-gen-z/.
Morning Consult, "How 2020 is Impacting Gen Z's Worldview," June 2020, https://morningconsult.com/form/gen-z-worldview-tracker/.
Mark Stibich, PhD, "Healthy Life Expectancy and How It's Calculated", Verywell Health, October 3, 2020, https://www.verywellhealth.com/understanding-healthy-life-expectancy-2223919.
MBO Partners, "The Great Realization: 11th Annual State of Independence," December 2021, https://info.mbopartners.com/rs/mbo/images/MBO_2021_State_of_Independence_Research_Report.pdf.
Allison Shelton, "What We Know—and Don't Know—About Independent Workers and Retirement Savings," June 28, 2019, https://www.pewtrusts.org/en/research-and-analysis/articles/2019/06/28/what-we-know-and-dont-know-about-independent-workers-and-retirement-savings.
National Retail Federation, "Graduation Season Data Center," 2022, https://nrf.com/topics/holiday-and-seasonal-trends/graduation/graduation-season-data-center.
10. U.S. Internal Revenue Service, "What's New – Estate and Gift Tax," February 21, 2023, https://www.irs.gov/businesses/small-businesses-self-employed/whats-new-estate-and-gift-tax. 
Please remember that different types of investments involve varying degrees of risk, and there can be no assurance that the future performance of any specific investment or investment strategy (including those undertaken or recommended by Versant Capital Management, Inc.) will be profitable or equal to any historical performance level(s). Please remember that past performance may not be indicative of future results. Different types of investments involve varying degrees of risk, and there can be no assurance that the future performance of any specific investment, investment strategy, or product (including the investments and/or investment strategies recommended or undertaken by Versant Capital Management, Inc.), or any non-investment related content, made reference to directly or indirectly in this article will be profitable, equal any corresponding indicated historical performance level(s), be suitable for your portfolio or individual situation or prove successful. Due to various factors, including changing market conditions and/or applicable laws, the content may no longer be reflective of current opinions or positions. Moreover, you should not assume that any discussion or information contained in this article serves as the receipt of, or as a substitute for, personalized investment advice from Versant Capital Management, Inc. To the extent that a reader has any questions regarding the applicability of any specific issue discussed above to his/her individual situation, he/she is encouraged to consult with the professional advisor of his/her choosing.