Unsubscribe from Sales Emails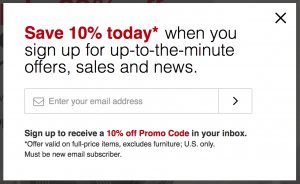 Stop Spending and Save Money
Lisa Greve, Marketing & Administrative Manager
I was talking with a friend the other day and she told me about how much money she "saved" at a recent sale at Banana Republic. "How'd you know about the sale?" I asked. She explained that she'd ordered online via an email she received from the retailer, offering an extra 50 percent off already reduced items. "I got two sweaters, a dress, and three pairs of pants for only $325!" she said.
The truth is, my friend didn't save money, she spent it.
Retailers make good use of technology to reach their audiences. When you subscribe to retailer mailing lists, you're frequently informed about their products, special offers and sales. While receiving such emails can be helpful if you're interested in a particular item, there is a downside.
I used to fall into the trap of "deals too good to pass up." How could I not buy those black boots I didn't even know I wanted? They were on sale for 50 percent off! I was spending money under the guise of saving money. The result of this marketing ploy can snowball into multiple daily emails including beauty items, men's, children's, home, travel and even local deals. Sure, it's great to get things you need on sale, but if you're acquiring stuff you weren't planning on spending money on in the first place, your bank account is going to suffer.
When you go to a retail website, a pop-up window will often prompt you to "sign up for our offers, and save x-percent today." Once you provide your email address you'll start receiving those pesky offers immediately and frequently. You can ignore them, but inevitably, human nature kicks in and you end up ordering something you may not have needed because the offer seemed too good to pass up.
What can you do about it? In an article in The Wall Street Journal, writer Joanna Stern suggests three tips to unsubscribe from the sludge of promotional emails:
Tip 1: Use email app tools
In iOS 10, Apple added an unsubscribe shortcut. If the app detects that the message is a subscription or promotional email, it will provide an unsubscribe button at the top of the message. Tap it and Apple will fire off an email from you asking to be removed from the mailing list.
Google's Gmail app for Android also has an unsubscribe button located under the three vertical buttons in the top right corner. On the web, Gmail users can find the option next to the sender's address. Outlook.com has similar features.
Tip 2: Get Unroll.me
iPhone owners should get the Unroll.me app. (The company plans to roll out an Android app next year. In the meantime, it also has a website.)
The service allows you to group all the newsletters and social media posts into one daily digest email, but also has a very simple bulk-unsubscribe feature.
Log in with your email address so Unroll.me can figure out what newsletters and lists you're on. If you log in with a Gmail, Yahoo or Outlook.com account, the company doesn't have access to your passwords. If you use AOL, iCloud or another type of account, however, it will need access to your password. ("We use several third-party security systems to secure login credentials," the company said.)
If you opt to give Unroll.me access, it will scan your inbox's senders and subject lines to determine what is or isn't a subscription email. The company says it typically doesn't scan the body contents of your email. "We don't take on processing data we don't need," an Unroll.me spokeswoman said.
Then, in its awesome interface, it provides a list of newsletters. You can hit "Unsubscribe" for the ones you don't want to hear from anymore. Like the others, Unroll.me will send unsubscribe emails to senders. However, in some cases companies require you to fill out unsubscribe forms. If Unroll.me hits one of these forms, it instructs your email to trash future messages from this sender.
Tip 3: Manually unsubscribe
If you want to just do it manually, you have that option, too. At the bottom of each marketing email is an unsubscribe button. Click it and follow the next steps. (It may prompt you to send an unsubscribe email or take you to a web page to fill out a quick survey about why you are leaving.)
The Federal Trade Commission requires all commercial email messages to tell recipients how to opt out of receiving future email. If your unsubscribe request isn't honored, file a complaint with the FTC.
Source: The Wall Street Journal, Dec. 8, 2016 http://www.wsj.com/articles/unsubscribe-rid-yourself-of-those-pesky-sales-emails-1481030836
I unsubscribed from most every mailing list I was on. It felt great! The irony is that my job is to provide marketing services, but since my email eradication, it's been nice not to be bombarded by ads. If you're worried you are going to miss a sale for something you truly need, simply subscribe to the website, but opt out of the daily emails. You can also check retailers' social media accounts to stay updated.
These days I don't know what's on sale unless I go looking for something specific. I won't sign up for special offers because I know they add a level of enticement to things I don't really need, but may be tempted by because it's a good price. If I need or want something, I'll go to the store and get it, or research the best deals online.
[mk_fancy_text color="#444444″ highlight_color="#ffffff" highlight_opacity="0.0″ size="14″ line_height="21″ font_weight="inhert" margin_top="0″ margin_bottom="14″ font_family="none" align="left"]Disclosure: Please remember that past performance may not be indicative of future results. Different types of investments involve varying degrees of risk, and there can be no assurance that the future performance of any specific investment, investment strategy, or product (including the investments and/or investment strategies recommended or undertaken by Versant Capital Management, Inc.), or any non-investment related content, made reference to directly or indirectly in this newsletter will be profitable, equal any corresponding indicated historical performance level(s), be suitable for your portfolio or individual situation, or prove successful. Due to various factors, including changing market conditions and/or applicable laws, the content may no longer be reflective of current opinions or positions. Moreover, you should not assume that any discussion or information contained in this newsletter serves as the receipt of, or as a substitute for, personalized investment advice from Versant Capital Management, Inc. To the extent that a reader has any questions regarding the applicability of any specific issue discussed above to his/her individual situation, he/she is encouraged to consult with the professional advisor of his/her choosing. Versant Capital Management, Inc. is neither a law firm nor a certified public accounting firm and no portion of the newsletter content should be construed as legal or accounting advice. If you are a Versant Capital Management, Inc. client, please remember to contact Versant Capital Management, Inc., in writing, if there are any changes in your personal/financial situation or investment objectives for the purpose of reviewing/evaluating/revising our previous recommendations and/or services. A copy of the Versant Capital Management, Inc.'s current written disclosure statement discussing our advisory services and fees is available upon request[/mk_fancy_text]