[vc_row][vc_column][vc_column_text]

Hot weather has arrived and it's the perfect time of year to enjoy crisp, cool wines. Rosés have had immense popularity, with wine lovers posting pictures of rosés with hashtags #yeswayrosé and #roséallday. And, food and wine enthusiasts agree that rosé goes well with many different types of cuisine. The good news is you don't have to pay a lot to drink good rosé; there are many great options at under $20. A favorite of mine is Angeline Vineyards Rose of Pinot Noir 2016 ($15) produced at the Angeline Winery, located in Santa Rosa, California, in the heart of Russian River Valley.
Crisp and dry, this bright pink wine is classically styled, showing apple skin aromas and lively grapefruit flavors. Made from Pinot Noir, it's light and appetizing and has a solid, mildly grippy mouthfeel. -The Wine Enthusiast[/vc_column_text][vc_column_text]

Arcane Cellars has long been a favorite winery of mine. Last summer I spent a fabulous wine tasting weekend with friends in Oregon's gorgeous Willamette Valley*, where Arcane Cellars is located. Though we didn't visit the winery on our trip, I am a fan of their Pinot Noir and love the Arcane Grüner Veltliner ($22) during hot weather months.
The primary fruit flavors in our Grüner Veltliner, Austria's main grape varietal, are lime, lemon and grapefruit. Our estate-grown Gruner Veltliner has a green and herbaceous flavor that is often described as white pepper. This unique, world class Grüner Veltliner wine features a signature vein of acidity that literally explodes in your mouth with a delicate, tingly aftertaste. –Arcane Cellars
*Pro tip: If you're planning to visit the Willamette Valley, consider staying at The Allison Inn & Spa. It provides a wonderful resort experience set near acres of scenic vineyards, along with The Jory Restaurant, which features seasonal, farm-to table offerings.
[/vc_column_text][vc_column_text]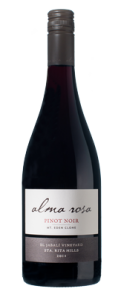 Pinot Noirs are probably my favorite varietal. In hot weather, I turn up the A/C and pair them with a wide range of foods: lighter and fruitier Pinots are great with salmon or other fish, roasted chicken or pastas, charcuterie and cold meats. More robust and tannic Pinots complement lamb, beef, game birds, casseroles, and hearty soups and stews. There are many Pinots that I enjoy and one in particular is the Alma Rosa 2014 El Jabali Pinot Noir ($55):
Intense cardamom and coriander notes and a dominating aroma of slightly wilted red rose. On the palate, raspberry and loamy earth flavors shine through, highlighting a firmly tannic finish with brisk acidity. – Alma Rosa
Salut!
Liz Shabaker is the Chief Operations Officer and a Principal at Versant Capital Management, Inc., overseeing the firm's wealth management practice. Her understanding of a broader wealth picture is important to our clients. Liz's reach goes beyond the financial arena into multiple not-for-profit organizations where she serves to help abused and homeless children and other citizenship commitments that impact our community.[/vc_column_text][vc_column_text][mk_fancy_text color="#444444″ highlight_color="#ffffff" highlight_opacity="0.0″ size="14″ line_height="21″ font_weight="inhert" margin_top="0″ margin_bottom="14″ font_family="none" align="left"]Disclaimer: The opinions in the websites referenced are for general information only. Neither Versant Capital Management, Inc. (VCM) nor any of its affiliates or employees makes any warranty, express or implied, or assumes any liability or responsibility for the accuracy, completeness, regulatory compliance, or usefulness of any information, tools, resources or process described, or represents that its use would fully protect against cyber security incidents, including but not limited to system breaches, compromise of firm security and/or improper access to confidential information. The article contains links to content that is available on third-party websites. Please note that VCM does not endorse these sites or the products and services you might find there.[/mk_fancy_text][/vc_column_text][/vc_column][/vc_row]