[vc_row][vc_column][vc_column_text responsive_align="left"]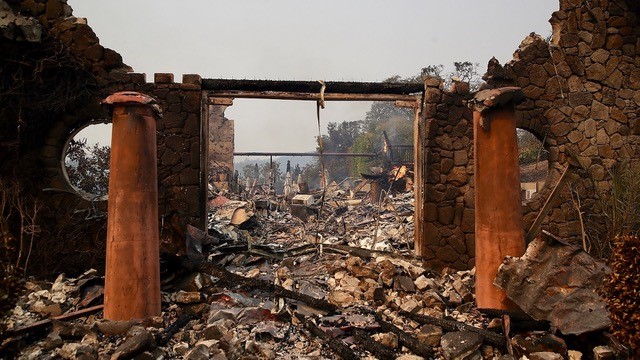 Napa and Sonoma
Why you should visit now
Early on the morning of October 9, my colleague Laura Countiss and I were driving to the airport on our way to Napa for a conference. We were looking forward to learning about new compliance and regulatory information for the financial industry, and, during our downtime, visiting wineries and taking in all that Napa and Sonoma have to offer. My phone beeped with a message from Norm Miller, another colleague, that said, "I don't think you're going to Napa. Wildfires. Check the news."
We quickly went online and saw the devastating images of the wildfires ravaging Napa and Sonoma counties that seemed to come out of nowhere overnight. Tens of thousands of acres and hundreds of homes and business were burning. Most tragically, many people lost their lives.
Twenty-seven wineries were damaged or destroyed by the fires. Many had to be abandoned, with wine fermenting in the tanks, while staff evacuated with just the clothes on their backs. Along with watching updates from national news sources, I received numerous emails from wineries I purchase from, with information about what was transpiring at their vineyards:
Stellareese Wine: While we remain out of harm's way on Howell Mountain, fires continue to burn all around us. The firefighters and first responders have been working night and day and have come from all over to help save our little valley. We are incredibly grateful for their efforts and sacrifice. We are not out of the woods yet, please keep us in your thoughts.
Girard Winery: While still an active fire zone, our winery is currently undamaged. However, Girard's shipping center is located in Santa Rosa, which has suffered some of the worst damage. It's a day-to-day situation, but we are working as hard as we can to return to normal.
Keenan Winery: The family team is at the winery, helping as winds shift to the east. This has been so sad and scary. If you have to be stuck somewhere, better to be at the winery, powered by solar, with a generator, lots of water, and of course, wine.
Hourglass Wine: The full extent of the damage will take weeks, or months, to fully calculate. Sadly, what we do know for sure is that the damage is extensive.
I grew up in Carmel by the Sea in Northern California. My paternal grandparents settled in Napa and my dad was raised there. As I result, I spent a lot of time in wine country – it's in my DNA. I admire the resilience of the people there and their determination to rebuild their damaged properties.
Now is a good time to visit. The vintners and their employees need tourism to kick back in so they don't lose their livelihoods. The tasting rooms are mostly empty, but great California wine is still available to be enjoyed. Take advantage of the empty spaces in the restaurants and the lack of lines at the wineries, and go! You'll come away with fantastic wines and will have helped some really nice people get back on their feet.
If you'd like to make a contribution to help those affected by the wildfires, please visit the Community Foundation of Napa Valley.
Liz Shabaker is the Chief Operations Officer and Principal at Versant Capital Management, Inc., overseeing the firm's wealth management practice. Her understanding of a broader wealth picture is important to our clients. Liz's reach goes beyond the financial arena into multiple not-for-profit organizations where she serves to help abused and homeless children and other citizenship commitments that impact our community. [/vc_column_text][vc_empty_space height="45px"][vc_column_text responsive_align="left"][mk_fancy_text color="#444444″ highlight_color="#ffffff" highlight_opacity="0.0″ size="14″ line_height="21″ font_weight="inhert" margin_top="0″ margin_bottom="14″ font_family="none" align="left"]Disclaimer: The opinions in the websites referenced are for general information only. Neither Versant Capital Management, Inc. (VCM) nor any of its affiliates or employees makes any warranty, express or implied, or assumes any liability or responsibility for the accuracy, completeness, regulatory compliance, or usefulness of any information, tools, resources or process described, or represents that its use would fully protect against cyber security incidents, including but not limited to system breaches, compromise of firm security and/or improper access to confidential information. The article contains links to content that is available on third-party websites. Please note that VCM does not endorse these sites or the products and services you might find there.[/mk_fancy_text][/vc_column_text][/vc_column][/vc_row]