Time is running out to get the REAL ID
No domestic travel without it after October 2020
By Lisa Greve, Versant Capital Management Marketing & Administrative Manager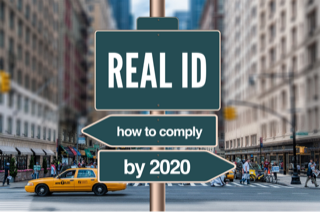 Passed by Congress in 2005, the REAL ID Act established security standards for state-issued driver's licenses and identification cards. Federal agencies such as the TSA will no longer accept licenses and identification cards from states that do not meet the standards.
You have until October 2020 before standard driver licenses will no longer be accepted for domestic air travel. You'll need The REAL ID (or a valid passport, military ID or permanent resident card) to board a flight after that date.
The ADOT (Arizona Department of Transportation) website states, "customers wishing to convert their current driver licenses to the Voluntary Travel ID at an MVD office must make appointments at servicearizona.com. Current driver license holders can also convert to a REAL ID at any of the 24 authorized third party driver license providers around the state without the need for an appointment."
In Arizona, you must apply in person at the MVD; however, you can submit an online application before your visit to speed up the process. You might want to do that soon to avoid long lines at the MVD when everyone is rushing to comply. The cost is $25 for the card and will be valid for eight years. To beat the 2020 rush, I decided to get my REAL ID now, hoping to avoid long lines later on. I made an appointment for the following week at the closest MVD facility near my home by simply clicking the Replacement Driver License / ID button on ADOT's website. Easy enough. I printed out the appointment form, which included a barcode that I could later scan at an MVD check-in kiosk.
I then submitted the online application to speed up the appointment process. This took a little longer. You'll need your existing driver's license information and other personal data to complete the form. The application states that you are required to bring in documentation to "establish birth," and provides a list of nine acceptable documents. I planned to use my valid US passport. You also have to provide verification of your Social Security number, and five options are provided. That was trickier for me. I no longer have my Social Security Administration card and had to rely on a W2 form and a statement generated from the Social Security website. It turns out that the statement had six of the nine digits redacted. I hoped that wouldn't be an issue at my appointment. You are also required to bring two forms of documentation that provide proof of residency. There are 21 options from which to choose. I gathered a Direct TV bill and a car insurance statement.
I pulled up to the MVD on the morning of my appointment, aware that the parking lot was already full. Upon entering, I found a check-in kiosk and attempted to scan my appointment barcode. It didn't work. I then realized I could hand-key the barcode number, and viola, I was checked in. I spotted a row of benches marked "priority seating" and had just sat down when a clerk immediately called me to her window. She asked if I had gone to the line to have my photo taken, and I explained that I hadn't; I didn't know that was the first step. The photo line was long, but I was able to go to the front because I had an appointment (noting hard glares from other people in line).
I was immediately handed my photo and went back to my clerk. She went through my application that I had completed ahead of time and carefully examined my five pieces of identification. She called over another clerk, with whom she discussed my application and their lunch options. They pored over everything, questioning the Social Security paperwork. After a few more minutes, my paperwork was given a stamp of approval. I paid $25 and was handed temporary documents, though you get to keep your existing license. In a week, my new ID arrived in the mail, and I am now fully prepared for domestic travel in 2020.
My tips for making your REAL ID experience go smoothly:
Fill out the online application before your appointment. I'm sure that saved me at least 20 minutes.
Look for the priority line at the MVD so that the clerks know you are there for your appointment.
Be sure to bring every single piece of documentation that is required. You will not get a new ID without them.
Smile for your photo.
Sources
Homeland Security: Frequently Asked Questions
Homeland Security: Real ID and You: Rumor Control
Disclaimer: The opinions in the article are for general information only. Neither Versant Capital Management, Inc. (VCM) nor any of its affiliates or employees makes any warranty, express or implied, or assumes any liability or responsibility for the accuracy, completeness, regulatory compliance, or usefulness of any information, tools, resources or process described, or represents that its use would fully protect against cybersecurity incidents, including but not limited to system breaches, compromise of firm security and/or improper access to confidential information. The article contains links to content that is available on third-party websites. Please note that VCM does not endorse these sites or the products and services you might find there.